What if you woke up one day to find that you lost precious photos of dear ones? How about losing your business documents, research and other important data?
Shivering thoughts, with a simple solution: BACKUPS!
Choose FBackup if you're looking for a free backup software with simple features, or the commercial
Backup4all
for more advanced backup options.
Software di backup premium
Backup4all Professional
FBackup
FBackup fa il backup dei tuoi file. Gratis.
About FBackup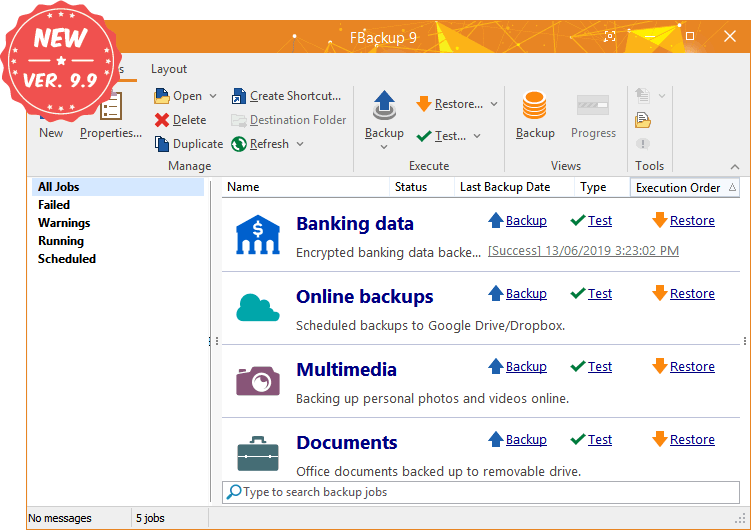 FBackup ha una semplice interfaccia che ti guida nel processo di definizione del backup usando un amichevole wizard che ti chiede:
Dove vuoi salvare il backup (la destinatione).
Cosa vuoi salvare tramite il backup (i sorgenti).
Come vuoi eseguire il backup (eseguire un backup completo che comprime i file oppure una copia speculare che non li comprime).
Quando vuoi eseguire il backup (puoi decidere se farlo eseguire automaticamente o eseguirlo manualmente).
Una volta che un backup è definito lo puoi eseguire manualmente premendo il bottone Backup (o il tasto F6), o se l'hai schedulato verrà eseguito automaticamente. FBackup può facilmente eseguire backup dei tuoi file sorgenti da drive locali (inclusi drive USB connessi) su destinazioni come dispositivi USB/Firewire o locazioni di rete mappate. Crea sia file zip standard (usando la tipologia backup completo) sia copie esatte dei file sorgenti originali senza nessuna compressione (usando la tipologia copia speculare).
Leggi di più
Istantanee
Principali Caratteristiche
E' gratuito sia per scopi personali che commerciali.
FBackup è un software di backup gratuito sia per scopi commerciali che per uso personale. Questo significa che risparmi denaro non dovendo comprare un altro programma di backup.
Backup automatici.
Definisci un backup, lo imposti per farlo eseguire automaticamente e te ne puoi anche dimenticare. FBackup eseguirà automaticamente il backup alla data schedulata, così non solo hai il vantaggio di avere i tuoi dati protetti ma risparmierai anche tempo prezioso.
Backup con compressione zip standard.
Usando la tipologia backup completo, i file sorgenti verranno archiviati usando la compressione zip standard. FBackup usa la compressione ZIP64, che vuol dire che può creare file zip più grandi di 2GB. Inoltre, puoi proteggere i file zip richiedendo di inserire una password per estrarre i dati.
Testimonianze
What our users say about FBackup
I've tried many backup applications over the years. Cobian, Comodo to name a couple. Though those are very good, freeware solutions. I must admit that after trying FBackup, this one is the best I've ever used. It is also very powerful and unique as far as backup software is concerned.
DarrenWalker (Fileforum)
Very useful piece of software for any user. Simple to use and easily backups your files and protects from corruption. I recommend this to anybody looking for a simple and easy to use software for backing up their important files. It's free so it means you don't pay for anything.
Raidenzxz (Download.com)
Have used this software both for back up and more importantly for restore. It worked as advertised. It was simple and worked well. It has saved me now twice when a bad motherboard took out the hard drives in raid mirror setup. I like the better package now due to the greater range of ability.
Breebree (Fileforum)
Easy to use and able to specify just what is to be backed up. I have it set up to do 7 different jobs, Videos, Documents, Music, Desktop, Outlook and Photos. Options of "zip, mirror and full" backup formats provide flexibility when capacity constraints are a factor.
HjHarris (Download.com)
A complete, easy to use, reliable and versatile backup application at last. I was impressed by FBackup after trying (and uninstalling) so many others. FBackup does all the things I want to be done, so it's here to stay. Recommended!
Nicholas (Fileforum)
Amazingly full-featured for a free program. Broad capabilities, including all the 'standard' backup options, but with many more features that the competition holds out for paid upgrades only. It took awhile to find FBackup among all the tools out there, but it was worth the extra searching.
Kfitzharr (Download.com)
Tutorial
Watch videos that show FBackup in action
Siamo Softland
Learn more about the company that makes FBackup
Chi siamo
Softland è un'azienda fondata nel 1999, impegnata nella fornitura di software di qualità mediante soluzioni di sviluppo innovative. Mettiamo sempre al primo posto le esigenze dei nostri clienti e per questo valorizziamo i feedback degli utenti.
About Us
Contattaci
Contact us with any questions/suggestions you might have regarding FBackup. If you are experiencing errors with FBackup, we recommend checking first if there isn't already an answer here:
FAQ
/
Forum utenti
Contattaci
Our Products
I prodotti che sviluppiamo e manteniamo sono mirati a due differenti settori: il backup dei file (Backup4all e FBackup) e la creazione di PDF (novaPDF e doPDF). Dal 2011 gestiamo anche Soft112, una libreria di download di software.
Prodotti
FBackup in numbers
FBackup is continuously developed since 2006
FBackup
Download & Rate FBackup